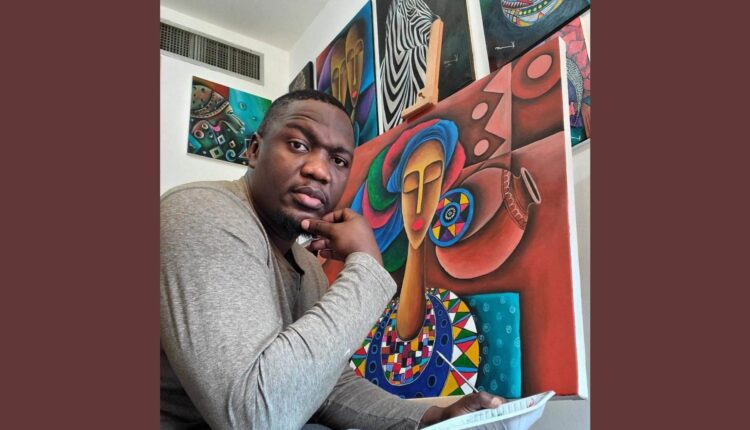 Arab22 In An Interview With The Artist Allan Kwero
About The Artist
Allan Kwero is a Ugandan born artist based in Abu Dhabi, UAE, holding a bachelor's Degree in Industrial Fine Art and Design.
My love and passion for art is second to none. My artworks are inspired by the relentless efforts of my African mother who against all odds supported my dreams and love for art from a youn
age.
Acrylic paints on canvas has always been my place for solace from the hardship around my childhood and mother's struggles were what inspired most of my paintings, where the virtues, values strength and values of women bodily figures are seen.
Mission:
To inspire and entertain people through art.
Vision:
I aim at creating opportunities and involvement in all aspects of art as I provide original, quality and affordable work of art.
Contact:
[email protected]
Mobile: +971 58 948 7221  |  +971 2 582 8007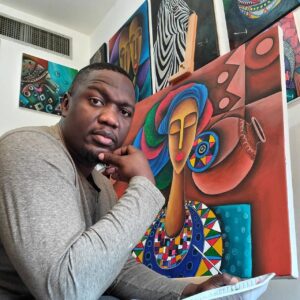 How did you develop your art skills?
I started doing art at a young age as a child, where I would draw images from story books and magazines. I would also draw imaginative compositions of stories told to me and movies watched on television. However, I took fine art more serious when I joined secondary school, because it was then that art was considered a subject of its own in class. I then studied fine art till University where I graduated with a Bachelor's Degree in Industrial Fine Art and Design.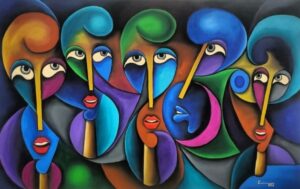 When is the best time to produce your artwork?
The best time to produce my artwork is anytime my mood and physical being is connected to a particular painting I will produce.  However, there are times I intend to paint when I am emotionally down and facing a situation that I am unable to explain to anyone around me. So I tend to express all my feelings and emotion onto the canvas.
Tell us about your participations in exhibitions.
I have participated in a number of exhibitions recently as shown in the images above. These included;
Expo2020 in Dubai where I exhibited wildlife paintings at the Ugandan Pavilion in a move to promote and encourage tourism to Uganda.
Participated in the group Art for Recycling at the Abu Dhabi Mall that was organized by Yalla Abu Dhabi – UAE.
Participated in the art group art exhibition organized by BYC Events at Royal Rose Hotel in Abu Dhabi UAE.
Had solo exhibitions art Queroz Art Gallery in Abu Dhabi where my artworks are currently displayed.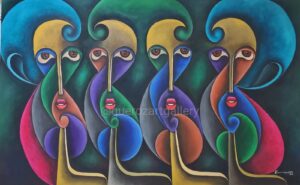 What is your favorite style?
I would say my favorite style is Figurative Abstract with a little bit of cubism to it. However, I usually do not want to limit my abilities and skills to a particular style of art. Iwant to have an open mind and let the art flow/dictate its final appearance.
What is your other hobby?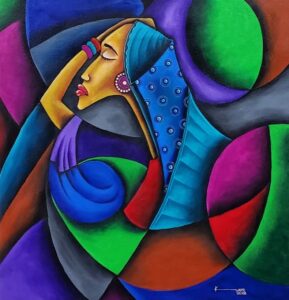 My other hobby is playing and watching basketball, MMA and soccer.
What are your dreams in Art?
My dreams in art has always been to own the biggest art gallery in Uganda and Africa with a number of branches around the world. And also to promote artistic talent in Africa to the world by using my galleries as a platform for young talented artists who do not have the opportunities to showcase their work to the world