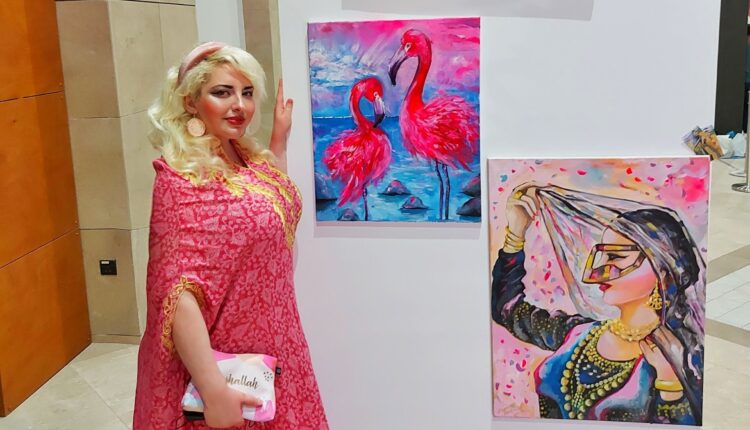 Artist Alexandra Novik-Khamis. Enlightenment through creativity and education
Short biography:
Alexandra Novik-Khamis is an established local artist creating modern conceptual art with a classic touch.
Alexandra is originally from Russia.
From early childhood, she showed great interest in painting and drawing, which was noticed by her parents, who tried to encourage her interest in the arts and develop her art skills. At the age of 10 she started attending Smolensk Arts School, and at the age of 16 entered the Department of Fine Arts and Graphics of Smolensk State University.
Five years of the University studies and self-development perfected her skills, gave her profound knowledge of the art styles and techniques, and helped to work out her artistic style and vision of "life in the art". As well as that, Alexandra took several master classes from famous Russian artists and started learning more about realism – her favourite artistic style.
During 12 years in Bahrain, she opened an art studio, organized several exhibitions, was recognized as one of the most successful businesswomen of the Gulf, created an educational art material book, and painted more than 500 artworks.
Alexandra works primarily with oil and acrylic paint on canvas; however, she is known to work with watercolours, ink, charcoal, clay, and cold wax as well. As a modern conceptual artist, her body of work comprises strong bold lines and bright colours that are coupled with an emphasis on space. Her specialty is creating large-scale portraits, landscapes, and still-life paintings for homes, corporate offices, vacation properties, and boutique businesses.
In a few short years, Alexandra has grown and evolved as an accomplished Modern Artist. Art collectors and dealers who follow her painting career say that Alexandra's body of work is always evolving.
Her oil and acrylic art is a reflection of her personal thoughts, emotions, struggles, and triumphs. A biographical visual novel perhaps might be a better way of explaining this.  With each brushstroke she releases a part of herself cleaning and purging what is no longer necessary and opening herself up to what should have been. She does have art for sale directly through her online artist gallery on Instagram.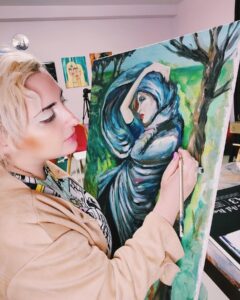 Alexandra Novik, is a Russian painter living in Bahrain, how did you get here? How long have you been living in Bahrain

I am originally from Russia. I live in Bahrain already 12 years. I came here because my sister first moved here and I really liked this place while visiting, so I decided to move here.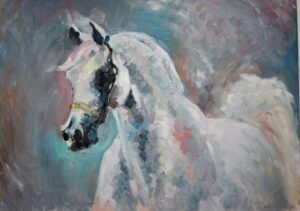 ?Where did you study art

I completed education in the art studio, then 5 years of art school, and then 5 years of the Department of Fine Arts and Graphics of Smolensk State University. As well as that I took a lot of master classes from famous Russian artists. And now I am continuing my education and getting a master degree.
?What do you want to convey in your works
Do you think that the current moments are reflected in the work of an artist

Many artists have mastered the techniques of conveying their emotions, and I believe I am very good at it as well.I enjoy expressing my emotions and feelings through my artwork. It constantly depends on the type of art, but I believe that I am able to elicit emotion and inspire others who view my works.
And, certainly, I believe that every artist may depict events from their own lives or feelings about what is going on in their lives right now, as well as the emotions that each artist is experienc.Your artwork should always have a more detailed tale. If you want to grab the audience's attention, you should include some backstory or features that will entice them to learn more about the character or situation.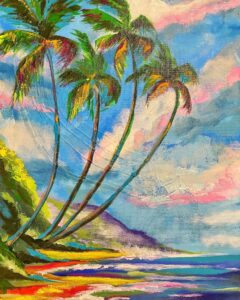 What artwork do you most identify with? What is your favorite artwork?
I am painting and drawing since the early childhood. All my life is artwork – The most inspiring artwork.And I knew that I will be an artist even when I was a child. I remember when I was ver small, my biggest dream was to have not ended stock of canvases and colors so I can paint all the tim.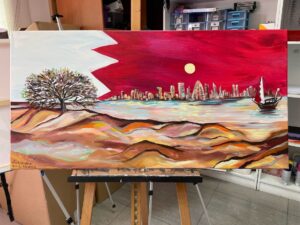 Can you describe a real-life situation that moved/ inspired you?
I enjoy making portraits and believe that every face is beautiful in its own ways and it is becoming more beautiful while you are reflecting it on the paper (drawing or painting
.And it is in the power of the artist to show the life of the face (emotions) on the paper.  A real artist should be able to do that. I am open in my art works, it all depends on inspiration and mood
.The main inspiration in my life is people whom I love – my family: my mom, dad and my husband
.I painted them so many times. I guess I will never be tired of painting portraits of my family
.From artists I really take inspirations from classical art works of Salvador Dali, Van Gogh and modern artists as well such as Malcolm Liepke and Chris Guest
.I love surrealist realism with a bit touch of impressionism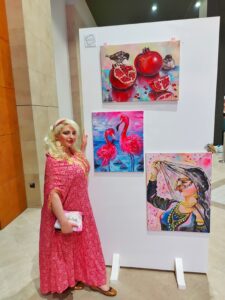 Can you describe your painting process, how do you know when your artwork is finished?
Art is my life. If I am not inspired or teaching, then I am busy painting.I believe we can find beauty everywhere. You just need to look for it.
As for me, I'm always trying to catch the beauty in the moment and paint it. I am always searching for deeper meanings in any art piece. And I am always trying to reach its "deepness" in my own artworks.
Artwork is born, it's a long process of creating, and each art piece is different. So in the start of work I never know what kind of art work it will be in the end. And sometimes art piece is never finished, but then it is becoming an unfinished interesting art.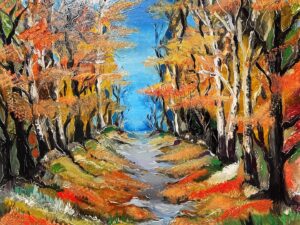 ?What is your favourite colour and why
.I love colours; I love bright colours or "tasty" colors as I call them, and interesting forms. Purple is the softest and most emotional color for me
?What inspires you as an artist

Moving forward is the biggest inspiration for me. A goal which is still in the making is my inspiration. The biggest goal is to open art school where anyone can learn how to paint and become a certified artist and an art teacher. More educated young artists is what our world needs.
This place could be an art gallery as well, where any talented artist can showcase their artwork totally free and openly
You are an art teacher, how does this profession affect your life and your painting?
I am an art teacher as well as a freelance artist. Along with my full-time career as a schoolteacher. I continue to develop my own artworks every year.The most significant aspects of my life are art instruction and mentoring. Art does more than only foster a student's creativity. The abled students learn frequently and have an impact on the academic performance. While mastering a subject surely boosts the student's confidence, also participating in the arts is inspirational. Using materials that transform into visual storytelling is wonderful, and it boosts pupils' confidence. Their self-confidence grows as they improve and observe their own progres.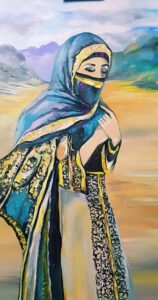 What is your teaching method? Do you think that each person an artist exists in them?
Art is a discipline that can be taught. In fact, I believe that anyone can be taught to be a great artist. If I didn't believe that as an art teacher, I would be in the wrong professio But art can only. be taught by an effective art teacher. Teaching isn't easy. Teaching art is even harder. If you went into this thinking it would be easy, and you don't like a challenge – then you may be in the wrong profession. But if you embrace the challenge, and pour yourself into it, then there aren't too many greater pursuits in life – to give the gift of creative expression to a generation of students and to change people's lives, not only sit behind their desks and simply hand out assignments. You don't want to be a lousy art instructor if you're one. You want to be a wonderful teacher, one that your students admire and respect. Effective teaching is a type of art. And, as with most types of art, there are talents required. Fortunately, these abilities can be learned. When these talents are applied with passion and purpose, they become a distinguishing feature of the instructor. These are the characteristics that distinguish the most powerful, memorable, and effective teachers.
?What is your favourite technique? And, what style defines you

I really like oil painting on canvas. Oil painting techniques can seem particularly hard to master when you first start painting. There's a learning curve with all types of painting, of course, but oil painting can seem particularly overwhelming. Fortunately, some simple, practical techniques for oil painting can make the transition much smoother, transforming your process and breathing new life into your work.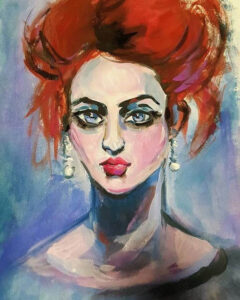 Does your painting evolve with you? Tell us how that transformation happens.
I was thinking recently as an artist, we never standstill. For years, I've worked with neutral palettes in my own work, but I'm now primarily using vivid, chromatic hues. Even as I begin to recognize this pattern, I feel a tiny stirring in my heart to rediscover my former love of neutral colours. I've seen artists evolve in my studio courses, The Palitra Studio, as we've explored and experimented with constraint, limiting palettes, painting a large scale, and working in series. It reminded me of the analogy between evolution and human development, and how important this is to be as an artist.
.There is some mirroring at the start. We absorb the works of masters and artists we like and mirror them back in our work
.We study procedures as well as how to use various instruments. It feels difficult at first, but we ultimately learn to make markings and paint passages with ease
.We study composition language as well as colour theory. We start speaking a new language
.We investigate value patterns in the same way that children investigate their shadows
.We get better at portraying and duplicating what we see in front of us, whether it's a figure, landscape, still life, or the work of a master painter
.But one day, this will not be enough. It will no longer be pleasurable one day. We will get bored one day and decide that we want to portray the unfathomable
.In our art, we seek to delve into the mystery of who we are
.We wish to express our vitality. We wish to create our own uniqueness
.As a result, we venture into the uncharted area and embark on our voyage of experimentation and we discover: Painting is a reflection…It reflects our lives
.There is no final stage. It's a never-ending process
.There is no endpoint, even as you gain mastery
.Indeed, I believe we frequently come in a full circle and revisit previous phases with new insights. We return to our roots and perceive them with fresh eyes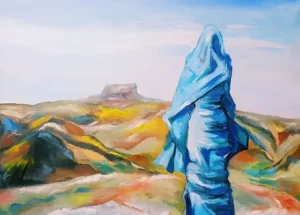 And finally, how does Alexandra Novik see herself in the immediate future

I wish to continue creating interesting and inspiring art and teach new artists. My dream is to open an Art School with professional teachers and many different art courses. Hopefully one day my dream will come true.
.Thank you
.P.S.: Put your heart, mind, and soul into even your smallest acts. This is the secret of success
.I am an artist, and I am proud to say it. It's very natural part of me as a person. Of course you are proud if you are saying you are talented
?But what if the skills you have is a natural part of you
.It's so important to bring value to someone's life, to bring some small but so important inspiration to everyday life
.Don't be scared to show your talents and be sure in yourself
.Don't feel shy to remind yourself about how great you are in something. It's not vanity, it is self-inspiration
.No need to compare yourself, no need to show off. Try to be modest but inspirational
.The balance in your talents and self-realization is important