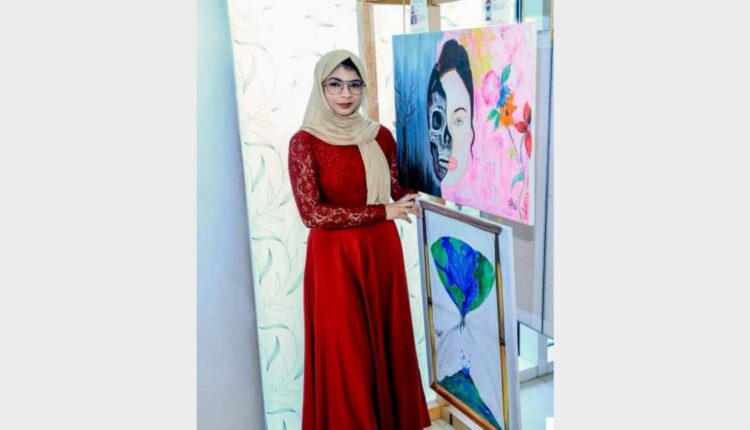 Arab 22 in an interview with the plastic artist Kalopsia Wiz
Kalopsia Wiz, currently 21; is in the last year of university pursuing her Masters in International Business Management with Marketing at Heriot-Watt, Dubai.
She is a multi-talented individual having interests and achievements in various aspects, sketching, painting, digital artworks, poetry and creative writing, photography and fashion to name a few.
Having started as a hobby, this brilliant self-taught artist has been sketching, doodling, painting and developing her creative mind since a very young age. Her dream is to be a successful and recognized artist one day.
Having been invited to UAE's largest LIVE painting at Index, Dubai World Trade Center, where she beautifully portrayed the skyline of Sharjah. This achievement has also been recognized and published by Khaleej Times, a leading newspaper in the UAE.
She has also been invited for LIVE painting at Premium Jewelry Expo in November 2022.
We approached the experience of the artist Kalopsia Wiz to talk about her artistic beginnings, from which she started to the world of plastic art. So (Arab 22) had this dialogue with her.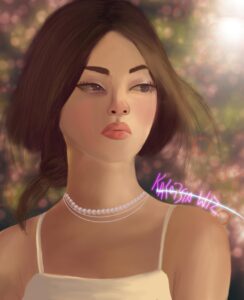 What is Art to you?
There is no right or wrong answer to this question. Art is described in numerous ways depending on each individual.
Art according to me is an emotion, it is a feeling. It is something that cannot be described even if you have a million words to talk about. Art is all about creating what you feel, what you think but cannot speak; hence pouring it down.
Art is also an escape from reality, it is where you can be as creative as possible, creating something unreal, something you wish to be, a place you want to explore, or a feeling you want to fall into.
.Painting is an art of brushing down what I feel and see around me. Some of my artworks are about the feelings that are almost impossible to word.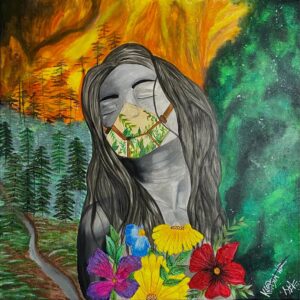 How do you find inspiration to create your art pieces?
Finding inspiration for art is not something you get instantly, it slowly creeps into your mind unknowingly seeking you to jot it down.
However, sometimes inspiration can also hit you like a lightning bolt; your mind could start making images and giving creative ideas as soon as you see even the smallest thing.
I believe that inspiration is everywhere, sometimes being strongly present and other times as a little hint. It's up to you to either take it to your best advantage or let it go for something different.
Everyone's artwork has a story behind it, and so does mine, but there are times when I cannot seem to find
the words to describe my artworks as they hold dear feelings which seem unmanageable for me to frame.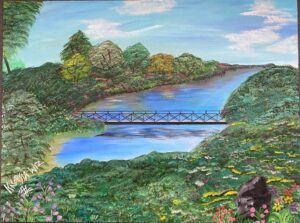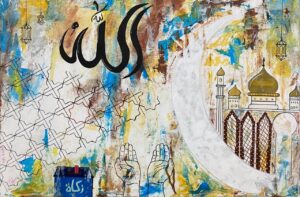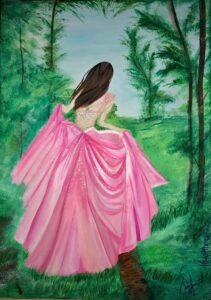 Talk a little about your art style and materials you use.
I use freestyle for my artworks creating different styles such as Abstract, Portraits, Nature, Landscapes, Waterscapes, Calligraphy, Thread Art as well as Still Life.
I use various mediums to create my pieces like Acrylic and Oil on Canvas, Water colors Poster Colors, Glass, Flakes, Graphite pencils, Markers, Silicon, Chalks, Primer, Metallic Pens, Sponges, Palette knife. I always try using new materials for my paintings to create different looks and textures.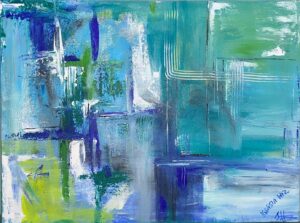 Can you talk about your greatest achievements?
Being a part of several art exhibitions and competitions, I have managed to capture the attention of the audience and Juries towards my artworks.
My impressive collection of awards and achievements are to be wowed/ fascinated at. Following are few of her accomplishments.
Secured Second Place at the Annual Student Art Show by FununArts in November 2022, Dubai.
Positioned at 22nd Place out of 8,633 for the best writer competition organized by Hashtag Kalakar.
Positioned at 28th Place out of 4,082 for the best Artworks competition organized by Hashtag Kalakar.
​Gold medal of "Appreciable Artists" and L.O.R for artworks by International Art Contest.
Inclusion of poems in "Anthology" magazine 'Beautiful Mishaps' | The Quill House.
Won the International "REMBRANDT AWARD" for outstanding artworks displayed by CreARTors Collective Jan 2022.
Won the International "ALBRECHT DURER" for outstanding artworks displayed by CreARTors Collective July 2022.
Would you like to convey a message to the young and emerging artists?Creating art is a combination of hard work and constant practice. It is not something you can achieve overnight. It needs to be done with patience and interest.There is absolutely no right and wrong in art. It is all a part of creating something, something you relate to; which is why no two artworks can ever be the same.Each individual have their own tastes and preferences, even in art. Hence, you can never and should never compare your work with that of others.You are unique, and so is your art. Be proud of what you create.